TBCSTARS - Gram
When just sending a "card" is not enough to show your special person how you feel, you can give your greeting a whole new living and glamorous dimension with a "TBCSTARS" celebrity personality!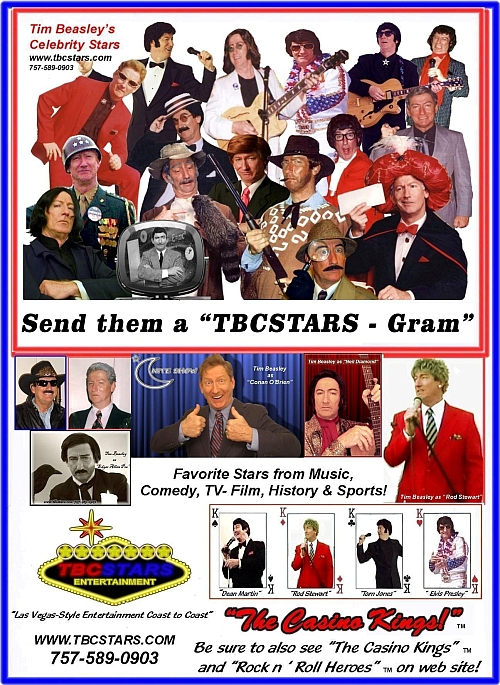 "TBCSTARS-Gram" is a video-taped greeting on a DVD or downloaded video file performed by national entertainer Tim Beasley in the "celebrity " of your choice from TBCSTARS' variety of "Celebrity Stars" professional celebrity impersonations. These are the same stars that Tim Beasley has performed for many special events in his "Las Vegas-style shows, coast to coast!"

As well as for large scale corporate and retail events, TBCSTARS has also performed for hundreds of birthdays, weddings, anniversaries (and divorces!) retirement parties and celebrations of all types.

Basic generic TBCSTARS - Grams are $200.00 for a one minute greeting. Customized with recipient's name and type of celebration for up to two minute greeting, add $50.00.

Here's a few typical ideas: Somebody going to Las Vegas? Give them a TBCSTARS-Gram greetings featuring your choice of the "Casino Kings" ("Rod Stewart, Neil Diamond, Tom Jones, Dean Martin, Elvis") to wish them "Good Luck!" Plus, it's a gift they can keep enjoying anytime!

Somebody retiring? Have "Donald Trump" tell them "You're fired!" then laugh and say, "Relax, I'm only joking, you're great and have a happy retirement!" There's also custom options, too, so e-mail or call to discuss the possibilities!

Pay is in advance of making each video, and paid through PayPal. Thanks! Call or email for details.